Modern businesses require agility: new services are offered, staff members are hired, leave or evolve to take new responsibilities, regulations and circumstances change. Risk management teams can not anymore rely on sole recurrent reviews and validation workflows: they need to be just as reactive as the business. Here comes PeopleRisk: the real time monitoring framework for all human operational risks.
PeopleRisk transforms your staff data to actionable insights
Maintain staff data knowledge
Our live data connectors consolidate a 360° view of your staff members. Always up-to-date, and designed for non-IT users.
Realtime compliance and risk levels
Staff organization, assets, accesses and regulation always change. Easily define your risk appetite and keep an oversight of your risk posture, day after day, and department by department.
Be reactive AND proactive
Be alerted on every unforeseen compliance violation, or whenever a person is out of your risk appetite. Automatically discover top scorers and outliers. Even better: simulate the impacts of every change before it happens.
Peoplerisk features
Our underlying CogTL engine can acquire and continuously monitor knowledge of any type: from databases to flat files, from internal directories remote APIs. All this knowledge will result in a 360° view of every person, easily accessible in a central place for your end users, effectively getting rid of all silos.

Now that you have gathered knowledge about every staff member, cherry-pick all elements that you consider pertinent in the context of operational risk management: for example, do the employees have a remote access to your company IT? Do they live in another country? How many clients can they see in your CRM? Those indicators will be the base for risk profiles definition.

Easily design global compliance rules directly in our CogTL interface, then map them to real-world risk language in PeopleRisk. For example, "Only HR department members can access HR data" will be visually setup in minutes, and the results immediately visible and exploitable in PeopleRisk.

By using the risk indicators defined, for every department or group of people using any arbitrary criterion (e.g. Senior managers), now visually set thresholds: For example, Senior managers are allowed to access all the CRM, but junior Sales members must not have access to more than a few accounts. Adjust the thresholds as your risk appetite evolves, and immediately get the feedback of how many people are now within or out of risk appetite.

Now combine every person information, risk indicator, users in violation of any rule or out of risk appetite, and instantaneously plot them on an interactive graph: visually discover clusters and outliers or people with shared characteristics.

Compare every list of assets, IT or physical accesses granted to your staff in interactive comparison grids, and even make them interactive to control other applications (e.g. access management tools).

In the real world, exceptions to the rule must sometimes be accepted: therefore, any violation of a rule can be temporarily of permanently validated by a risk manager, with associated comments.

As transparency is key in risk management processes, every validation is traced and can be reviewed or cancelled, leaving a clear audit trail of all risk-related actions.

Every screen and table in PeopleRisk can be exported to Microsoft Excel for offline communication or reviews.
The Peoplerisk difference
Realtime
Don't wait for ad hoc extractions or auditors reviews: take your risk decisions immediately with up-to-date information.
Agile and evolutive
With our flagship CogTL engine, integrate new data sources or rules without one line of code: visually design rules, for a very short time-to-market and high adaptivity.
Aligned with business
As exceptions happen, temporarily validate anomalies our violations with a clear audit trail for further reference.
Easy integration
Multiple data sources types are supported, from databases to structured or unstructured files, from directories to external APIs, all configurable without a line of code. Then in return, query PeopleRisk APIs from your own systems, to request users risk data or perform simulations. Even our advanced visual components can be imported seamlessly to your web applications.
Master operational risks related to your staff with PeopleRisk
With always up-to-date data, continuous risk level measurement and compliance validation, PeopleRisk brings risk management activities to a new level: real time, more cost effective and more agile than ever.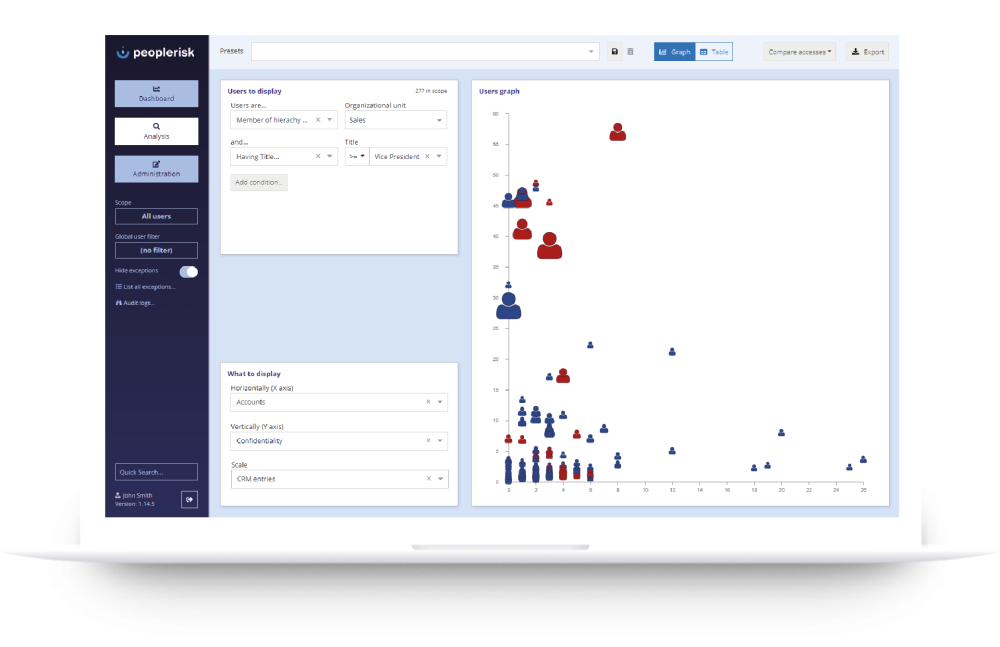 Join us at Cognitechs !
We're a young company, but we believe that we have a long journey in front of us. We are actively looking for motivated, creative and dynamic talents to build our future together.