Our flagship knowledge management engine is at the heart of our "continuous health check" platform. It is designed to continuously ensure that your rules and policies stay enforced, and your risk scores keep up to date, whatever the complexity or the number of changes in your system.
• Break technological silos by gathering all the knowledge in a central place, semantically organized, which makes it far easier to query and understand

• Visually define rules or calculations that will be enforced whatever the changes that will occur in the knowledge

• Anticipate the future with our simulation features: detect issues before they even happen
Big Data
To be able to handle millions of interconnected knowledge elements, CogTL is based on big data technologies for storage, calculation and resilience.
Artificial Intelligence
At the core of our CogTL engine lies a powerful graph inference engine, which behaves like an expert system on steroids: always up-to-date and with a permanent truth maintenance. Unlike some other AI engines, every outcome is explainable, so that you can react transparently with all elements in hand.
Event based
To keep knowledge up-to-date and immediately recompute the required calculations, our core system is completely event-based, which means that you can intercept every event to automatically raise alerts, archive changes, or invoke other systems.
Fuzzy logic
The reality is not always binary: CogTL only deals with fuzzy logic. In CogTL, every piece of knowledge, or every event happens with a certain probability, which makes it the ideal system for risk management.
Modular
If required, the modular architecture of CogTL allows you to deploy remote agents to gather knowledge, and custom modules to interact with third-party systems.
Cloud or on-premises
No need for expensive hardware: CogTL can be deployed in the cloud for heavy calculations. For companies with high confidentiality requirements, CogTL can also be deployed on premises as a set of Docker containers, orchestrable by Kubernetes.
CogTL knowledge management pipeline
Acquire knowledge
With its multiple technical connectors, CogTL reads and monitor changes on your databases, directories, reference files or requests your remote APIs. Every piece of information is then transformed in a small semantic graph, itself merged with our core knowledge graph, which always contains an up-to-date and semantically correct representation of your system.
Apply business intelligence
Now's the time for our graph inference engine to enter into action: every change is evaluated in terms of impact, and the pertinent rules are re-evaluated and may result in new changes, themselves triggering new evaluations in cascade. This step is also the perfect place for CogTL to trigger other operations: send alerts, notifications, or call other external IT systems.
Imagine the future
Now that it has updated its knowledge and reacted to the latest changes, our CogTL engine has some free time to think about the future: our imagination engine will now project potential scenarios and combine them, in order to calculate their relative probability of occurrence. CogTL will also happily respond to your simulation queries, allowing you to anticipate the impacts of any projected change in terms of risk, adding a lot of value to your change management workflows.
For any business domain
Just like humans can specialize themselves in multiple different domains, our CogTL engine is completely agnostic of the business domain: it will excel at what you teach it. Discover how CogTL can bring a high value in different industries.
Discover the power or CogTL
Lost or tired about our long explanations ? The best is to have a live discussion and see our products in action.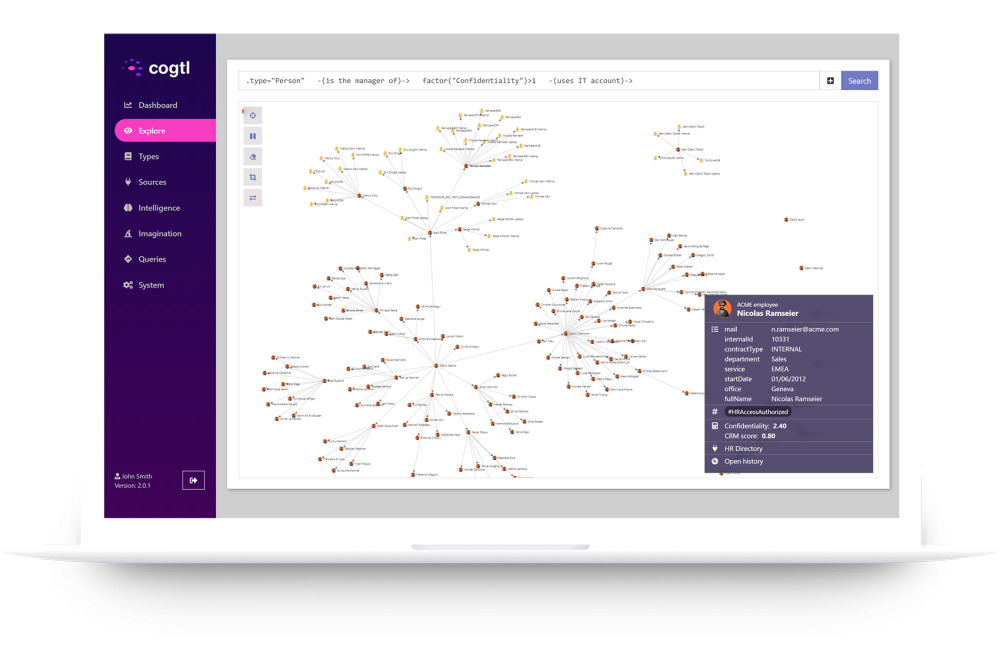 CogTL support and rely on all modern technologies